Finally Everything is Coming Together
It takes four and a half minutes to go between Harry Hoster's two offices on foot. Those four and a half minutes link worlds and visions.
Today, Prof. Dr Hoster's day begins at the Chair of Energy Technology. Sipping his coffee, he makes use of the quiet early morning to tackle publications. His department brings together a team of 20, all focused on energy transformation and storage, energy distribution simulations and supply concepts.
Since October 2021 the physicist has also been the scientific head of The Hydrogen and Fuel Cell Center ZBT, a UDE subsidiary.
Both of his areas of work are united by the power driving this century: hydrogen. For a long time it couldn't be foreseen that this subject would become so hyped. But Hoster, now 51, already realised this at high school. In the mid-1980s, soon after the Chernobyl disaster, he gave a presentation on hydrogen, based on an article in the German magazine Spiegel.
Just a few months earlier, while gliding he had met a professor who was already researching into these future issues back then: Wolf Vielstich. He ended up not only discussing aircraft but also alternative energy sources with the electrochemical expert. This led Hoster to take an internship at the electrochemical laboratories in Bonn, his home city, where he stayed on to study physics.
After that he went on in the mid-1990s to do his doctorate in anode materials for methanol fuel cells – a fashionable topic at the time – at the University of the German Federal Armed Forces in Munich.
Since then, he has published extensively. Hoster picks two thick reference books off the shelves. They show the surfaces of precious metals on an atomic scale and come from Hoster's own laboratory and simulation work. 'I enjoy messing about in the lab and programming most of all,' he admits with a smile, running his fingers through his thick grey hair as he recalls the time after his doctorate.
First he went to São Paulo, then in Jürgen Behm's department at the University of Ulm he built up a research unit specialising in nanostructured metal surfaces and electrochemistry. This was followed by a phase in which he moved house frequently: having qualified to be a professor in physical chemistry in 2010, he became Professor of Electrochemical Energy Storage at the Technical University of Munich (TUM). Soon after, he became the scientific director at the TUM CREATE Center for Electromobility in Singapore, then taught as a visiting professor at Singapore's Nanyang Technological University. At this time his focus was on battery materials for electric vehicles.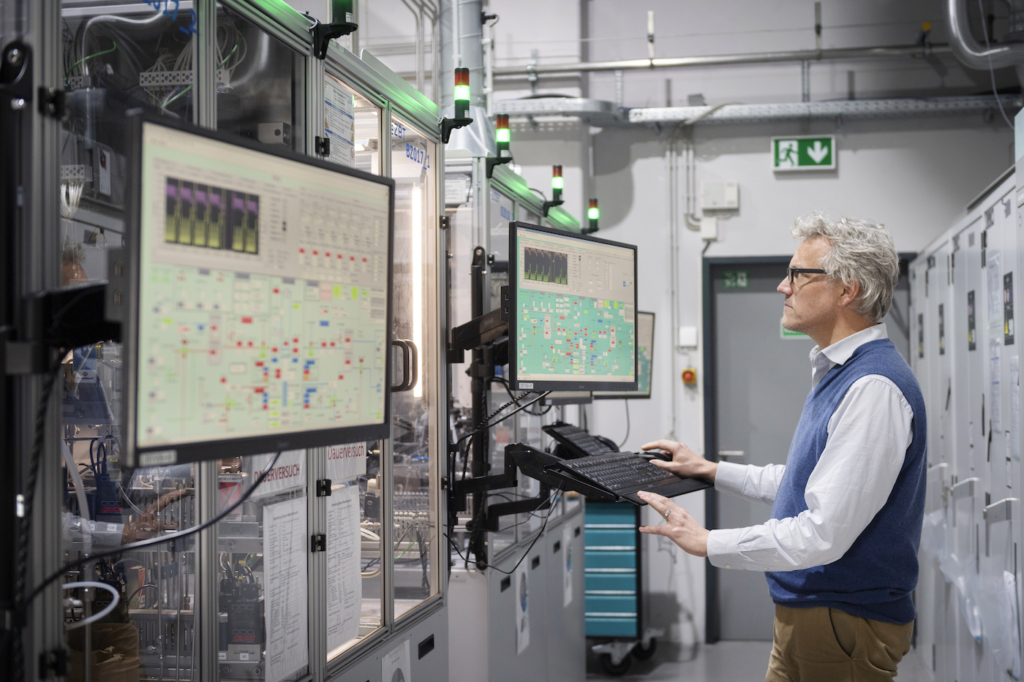 FROM THE PRINCIPLES OF BATTERIES TO INSURANCE PRODUCTS
Finally, he worked at the University of Lancaster as the Professor of Physical Chemistry and director of Energy Lancaster. This mainly involved modeling and operation of batteries, as well as their lifespan. He co-founded the start-up Altelium Ltd., which specialises in insurance products for battery storage and electric vehicles.
He likes to recall these extraordinary years, which all carried him a little further, because he was learning a wide range of strategies. 'In Singapore especially, science is closely tied in with politics, the industrial quota, at 25 percent, is high. They are far more dynamic about tackling major projects. Great Britain, on the other hand, has prioritised service provision in recent decades and has found it harder to expand the technology sector fast enough. I was impressed by the more efficient processes there: in seven years I only signed on paper once or twice.'
His four years in Singapore are recalled by the city state's skyline, which decorates the spines of several files in his office. The shelf above is decorated with the Lake District, not far from Lancaster. This is a subtle nod to one of his hobbies: hiking. He loves to be outdoors. On holiday the slim, sporty scientist heads off on his surf board, or to the ski slopes. His wife, a Canadian who he met on a flight from Frankfurt to Singapore, is just as fit as he is.
He hasn't gone gliding since the birth of his son six years ago, but he's not sorry, 'Time with my family is more important right now, I really don't want to miss that.' So the professor tries to ensure his working day is as family-friendly as possible. On Mondays he usually works from home, where he watches children's television online with his son in the evening. Online, because there's no TV set in his house.
In the evening Harry Hoster writes e-mails, reads theses or writes pieces for publication. From Tuesdays on he is often in Duisburg. He has reduced his teaching workload, his focus is now definitely on research: because ZBT has had several major projects approved in recent months. The team is growing steadily, there are now almost 170 people and some are even using rooms in the department. And more are still needed. For instance, the centre is planning a consultancy which would provide advice and support on hydrogen technology to industry, politicians, and the public.
'We're finally getting there: the market is opening up! It sort of feels as if we'd been working on Google for 20 years – and all of a sudden there's the Internet!' The scientist's eyes shine behind his shaded glasses; his job is like winning the jackpot to him. Now everything is coming together.
Hoster can quickly get to grips with new things and much of his work is interdisciplinary – for instance discussing social questions in relation to new concepts of mobility with sociologists. Better catalysts for fuel cells also drive him on, as does the question of how we can economise on rare or harmful materials. Although his scientific work mainly deals with fuel cells, hydrogen has always been one aspect. Now he's learning how the details interact.
One driving force is the Hydrogen Proving Area (TrHy), which is being built in the south of Duisburg. A number of industrial partners and research institutes are combining on the site of Hüttenwerke Krupp-Mannesmann (HKM) to put this key technology through practical testing. Logistics in particular promise to be one of the first fields in which hydrogen-powered vehicles – such as fork-lift trucks and lorries – are used.
Where is hydrogen heading? Hoster believes it will be best suited to the cities and the Ruhr region, which with its heavy and chemicals industries offers the ideal conditions to become the first port of call for the chemical element: after all, there is Duisburg port and the distances to Belgium and the Netherlands are relatively short. It would be easy to lay hydrogen pipelines alongside existing natural gas lines. 'We are certain to see this in the next ten years.'
There are filling pumps and storage already at the ZBT test site. Once the technology matures, city dwellers will soon be able to fill their cars up with hydrogen at filling stations. And this has clear advantages over battery-powered vehicles: you don't need special infrastructure at home and lengthy charging times – the tank is full in just a few minutes.
For hydrogen production and use, research is testing inexpensive all-rounders and environmentally-friendly options: 'We want to promote large-scale production of electrolysers and fuel cells without using precious metals too much. We want affordable materials – ideally infinitely available and easy to recycle,' he sums up, and leans back in his chair comfortably.
They can't do much more now with detailed basic research. They simply have to trust to trying materials out in the right environment. Simulations help to simplify things, and this can massively reduce the path to practical application. He values simulations highly and thought experiments too, 'I've had my best ideas on a train journey when I'd forgotten my laptop – I should do that more often!'
Hoster has done with packing up to move, but he still gets around: to conferences and trade fairs, kick-off and networking meetings. Where possible he goes by train, including to the UK. He's just back from Brussels; next week he's off to Berlin and Israel. 'In Israel we want to connect more closely with the start-up scene and develop research cooperations,' he responds precisely once more. That's something he does well: put something in a nutshell, without going on at length. He's also good at networking people, for instance at the monthly hydrogen get-together in Finkenkrug, a pub near the campus. At the same time, the calm that he emits is also striking. Is this because he's worked in so many different settings? "It may be," he smiles. 'Of course, I've been through a lot and I'm seldom surprised. If I had first-night nerves all the time, I'd go mad!'
»It sort of feels as if we'd been working on Google for 20 years – and all of a sudden there's the Internet!«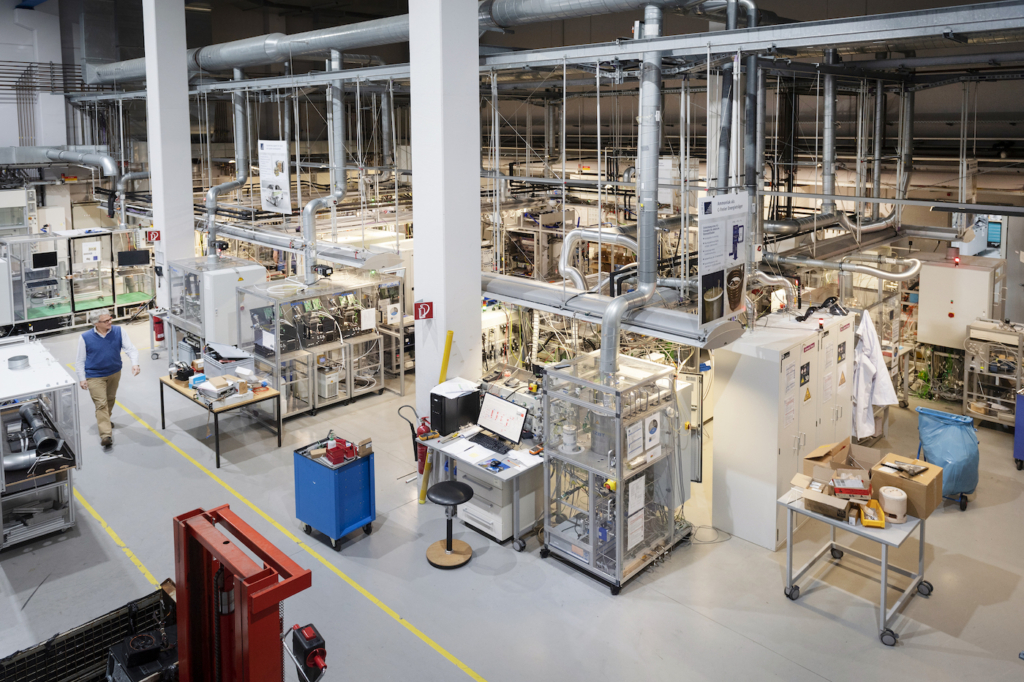 Main image: © Bettina Engel-Albustin